Event Archives 2019 -20
Alumni Interaction
Alumni Interaction program was conducted on 22.02.2020 in the academic year 2019- 2020.
1.Akalya, Deputy Commercial tax officer
2.Saipraveen, freelancer in Aura Picturesque
3. Vigneshwaran, Web designer in Indegene Pvt LTD
4.Dharun Prabhakaran, Program Analyst in CTS are shared their knowledge and interact with the juniors.
Alumni Webinar Series
Alumni webinar series (Day1) was conducted on 27.4.2020.Mr.D.Mohan, Probationary officer, Canara bank delivered speech on Carreer Guidance and Ms.V.Nethravathi, Senior Consultant, and Riversand global Technologies delivered speech on Email writing.
Alumni webinar (Day2) was conducted on 28.4.2020.Mr.D.Abdul Rahman, Senior Software Analyst, HCL Technologies delivered speech on Data Scientists role in IT revolution and Mr.Vasanthakumar, Senior Associate Consultant, Infosys PVT.Ltd, delivered speech on Types of job profile in IT industries.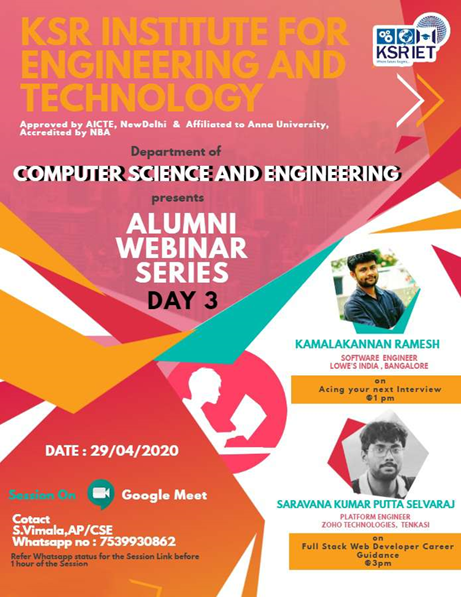 Alumni webinar(Day 3) was conducted on 29.4.2020.Mr.Kamalakannan Ramesh, Software Engineer, Lowe's India, delivered speech on Acing your next Interview and Mr.Saravana Kumar Putta Selvaraj, Platform Engineer, Zoho Technologies, delivered speech on Full Stack Web Developer Career Guidance.
Alumni webinar (Day 4) was conducted on 30.4.2020.Ms.Vinupriya Kumar, Lead Engineer, HCL Technologies, delivered speech on Small Talk about Testing Concepts.
Alumni webinar (Day 5) was conducted on 02.05.2020.Ms.Revathipriya RS, Lead AT &T, Senior Associate, and Applied Math & Statistics, delivered speech on Overview of Tools & Technologies in Data Handling with Business Scenario.
SRS CONTEST
We had conducted "SRS CONTEST" on 26th February 2020 for students of 2nd and 3rd year from departments of Information Technology and Computer Science and Engineering. Purpose of the event is to improve the knowledge about SRS document preparation for their project. We have allotted half a day for their SRS preparation. Many students had participated and awarded with certificates. Best of them was chosen and awarded with winner prize
PALS –QUIZ
PALS – QUIZ 2020 COMPETITION was conducted on 03.01.2020 for the academic year 2019-2020.The quiz based on the general knowledge.It will be good for students as they can explore their knowledge.
Hear & Act
Hear & Act is a nontechnical event conducted on 06.09.2019 as a part of SPRING FEST 2K19.
A word or sentence is given and the participant should act according to that. Other participants should find it .
Kodd Coner
KODD CORNER is a technical event conducted on 06.09.2019 as a part of SPRING FEST 2K19.
A question is given to the participants and they should write a program and execute it and shoud get sample output.
Logo Quiz
Logo quiz is a nontechnical event conducted on 06.09.2019 as a part of SPRING FEST 2K19.
Logos of different companies are displayed and the participants should identify the company correctly
Paper presentation
Tech Puzlze
Tech puzz is a technical event conducted on 06.09.2019 as a part of SPRING FEST 2K19. Puzzles with options related to technical skills are given and the participants should choose the correct option.
English Wizard
Name of the Forum: Association
Event Date: 24-07-2019
On behalf of Association, the English Wizard event conducted by final year students, all the department students are contributed and best students got prize for this event.