Event Archived 2022 -2023
PAPER PRESENTATION
CODE HUNT
Mock CID
We conducted an event called MOCK CID on 5th April 2021 for our 1st, 2nd and 3rd year CSE department students. This event is about finding the thief or the killer of a situation in a storyline based on a interesting clues. Students have participated and enjoyed this event.
Nayak'21
NAYAK'21 is a non-technical event conducted exclusively for all the department students on 15th March 2021. Many student participants made this event more effective. This event held for half a day so as to encourage all the students.
Filp the cup
FILP THE CUP is a non technical event conducted on 10.02.2021 for all departments. Many students had participated. We have allotted half a day for this program. It is a fun event where students actively participate in it.
Math magika:
MATH MAGIKA was conducted on 10.02.2021 for students of 2nd and 3rd year computer science and engineering. The program is based on mathematical knowledge. Most of the students had participated and were awarded with certificates. It will be good for students as they can explore their knowledge.
Muthamizhsaral
MUTHAMIZH SARAL is a non technical event conducted on 10-12-2020 for all department students. Many students participate actively and make it more fun. This was an interactive event and the best students were awarded at the end of the event.
Paper Presentation:
Paper Presentation is a technical event conducted on 10-12-2020. Students are addressed to present the paper on technical bases. Many students participate in it and present at the maximum of 20 min.
Tech talk AND Code kendo: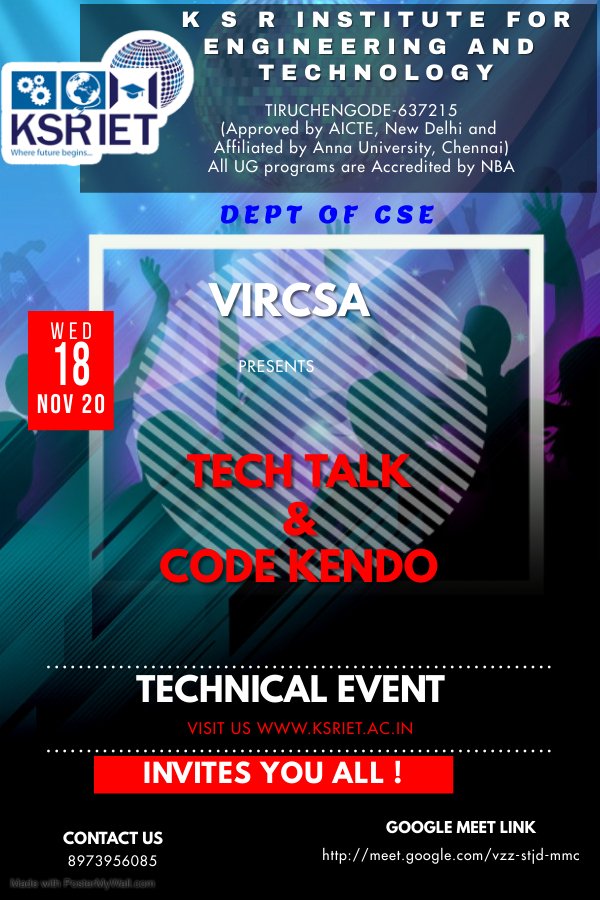 Date: 18| November | 2020 Time: 4:00 pm – 6:00 pm
TECH TALK is a technical event conducted on 18-11-2020 for all the department students. Technical talk covers technical concepts and ideas. Purpose of the event is to improve the communication as well as technical knowledge for the students.
CODE KENDO was conducted on 18-11-2020 for 2nd and 3rd year computer science and engineering department students. Code kendo is a technical event conducted for improving the programming knowledge of the students. Many students participate and best students will be awarded.
TWILATE (Twist and relate)
Date: 06| October | 2020 Time: 4:00 pm – 5:00 pm
Is an intradepartmental non-technical fun event organized by final year students of Computer Science and Engineering in association with VRICSA. The Event was conducted through google meet and featured the rounds with three Rounds
Find the product and advertisement tagline
Tongue Twister
Find your favourites
Rounds were hosted by Valenteena Collins J Prince and Sangeetha M with a team of backend organizers Prakash V and Pooja Shree K. Each round was very exciting and students made a great support for other teams. There were a lot of fun and entertainment for more than an hour. After the official closing of the event Twilate we also spent some extra time in knowing each other, sharing experiences and much more. There were also benefits like we got a chance to interact with our juniors despite the pandemic situation. The feedback acquired from the participants stated that the program was very entertaining with 90% positive comments that we analysed from the feedback form. The event on the whole was a success.
Association Inauguration "VRICSA" 2020-2021
Department of computer science and engineering is planned to inaugurate students association VRICSA 2021 in virtual mode. We invited Mr.Krithivasan Manager - India campus hiring Virtusa Technologies - Chennai to deliver the chief guest address.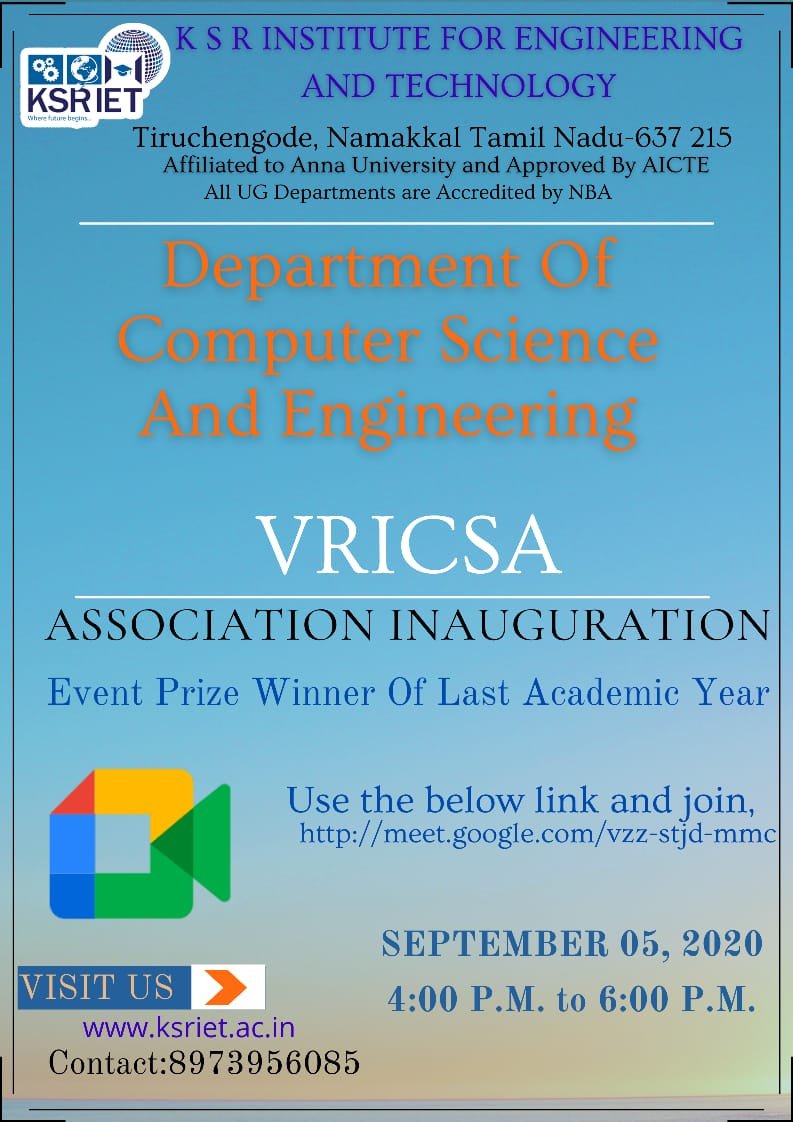 About Chief Guest
Career Match Maker | Empowering Student to Change Lives | University & Junior Talent Hiring at Virtusa Chennai, Tamil Nadu, India Passionate HR professional who believes in creating a positive impact on millennial life. He currently lead Graduate Talent Program (GTP) function for Virtusa India which caters to hiring needs from Campus (E School and B School), KPO Hiring and Junior Lateral Hiring for the country. Prior to joining Virtusa, I was with Merittrac Services, an assessment firm, where I handled campus hiring for major corporate and top government bodies. His current role at Virtusa is, responsible for the end-to-end gamut of campus, KPO and junior Lateral hiring function for India, which besides recruitment, includes corporate branding, mentorship and maintaining university relations through innovative initiatives. Recently awarded Young HR Achiever in India by World HRD congress, Feb19.
About the Program
VRICSA 9th Inaugural function is held on 05.09.20 in online mode. Chief guest Mr.Krithivasan S addressed the students and he shared following important points to the students
Self motivation and learning current technologies is very important to get a job
Students have to develop their leadership skills by organizing variety of events
Students are advised to participate hackathon events to enhance their programming skills