ABOUT THE ASSOCIATION
VRICSA – Association

( Vivacious and Rejuvenating Intellectuals of Computer Science Association)

TOWARDS SUCCESS…
"VRICSA" is an association of department of Computer Science and Engineering meant for the benefits of UG and PG students. The association mainly focuses on exposures to recent updates on IT by conducting various programmes. Numbers of technical events like aptitude, vocabulary and coding contests have been conducted. Many non technical events like treasure hunt, short films, rangoli are also encouraged. Our association not only improves students technical skills, also soft skills like leadership quality through the event like 'NAYAK'. Students also actively involved in social activities like DEYA and Blood Donation. We encourage our students to enhance current affairs with the help of THINKTANK board and then every week we recognize those students by awarding the prizes. Our association periodically publishes a magazine named 'Tech Zest' which includes articles in recent trends and their creativity such as drawing, poetry, etc., We have arranged alumni interaction for the students with our alumni to share their experience and current expectation of the industry.
OFFICE BEARERS
SECRETARY
Mr. PRAKASH V, Final year
JOINT SECRETARIES
Miss. SANGEETHA M, Final year
Miss. HEMALATHA DEVI P, Third Year
The Treasurer
Miss. YUVASHREE R, Final year
Joint Treasurer
Mr. ARUN KUMAR N, Final Year
Office bearers
From Final Year
Mr. KOTEESWARAN P N
Miss. POOJA SHREE K
Mr. MARIMUTHU R
Miss. VALENTINA COLLINS J P
From III Year
Mr. BHUVAN SHANKAR B
Mr. POOVENDIRAN G
Miss. KIRUTHIGA S
Miss. DHANUSHIYA V
Miss. SHARMILA R
From II Year
Miss. GAYATHRI K
Mr. MOHANA PRASATH M
Mr. RAKKESH S
Miss. THANGAMANI R
Association Inauguration "VRICSA" 2020-2021
Department of computer science and engineering is planned to inaugurate students association VRICSA 2021 in virtual mode. We invited Mr.Krithivasan Manager - India campus hiring Virtusa Technologies - Chennai to deliver the chief guest address.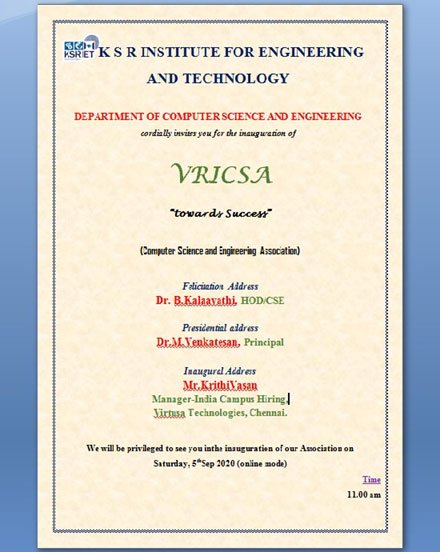 VRICSA Association Invitation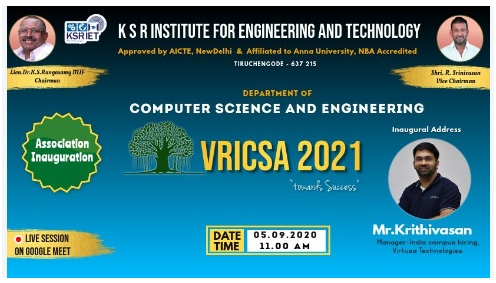 VRICSA Association Inaugration
Chief Guest Details

Name: KRITHIVASAN

Designation: Manager-India Campus Hiring,

Company/ Institution: Virtusa Technologies
About Chief Guest
Career Match Maker | Empowering Student to Change Lives | University & Junior Talent Hiring at Virtusa Chennai, Tamil Nadu, India Passionate HR professional who believes in creating a positive impact on millennial life. He currently lead Graduate Talent Program (GTP) function for Virtusa India which caters to hiring needs from Campus (E School and B School), KPO Hiring and Junior Lateral Hiring for the country. Prior to joining Virtusa, I was with Merittrac Services, an assessment firm, where I handled campus hiring for major corporate and top government bodies. His current role at Virtusa is, responsible for the end-to-end gamut of campus, KPO and junior Lateral hiring function for India, which besides recruitment, includes corporate branding, mentorship and maintaining university relations through innovative initiatives. Recently awarded Young HR Achiever in India by World HRD congress, Feb19.
About the Program
VRICSA 9th Inaugural function is held on 05.09.20 in online mode. Chief guest Mr.Krithivasan S addressed the students and he shared following important points to the students
Self motivation and learning current technologies is very important to get a job
Students have to develop their leadership skills by organizing variety of events
Students are advised to participate hackathon events to enhance their programming skills
VRICSA Association Inaugration Conducted in Online Mode
VRICSA Association Inaugration Conducted in Online Mode